Dr. Christian Oraedu trained in General Surgery in the United Kingdom. He became a Fellow of the Royal College of Surgeons of Edinburgh and Ireland. He also became board certified by both of these colleges.
Featured
"The greatest honor one human being can bestow on another is to entrust them with their life in their greatest moment of need (illness). The least a surgeon can do in return is exhibit diligence, skill and above all, compassion."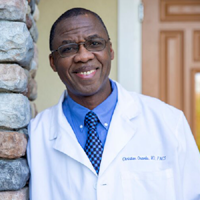 Dr. Oraedu moved to the United States and did his General Surgery residency at the Maimonides Medical Center in New York. Following this he underwent fellowship training in Colon and Rectal Surgery at the Pennsylvania State University program at Lehigh Valley Hospital, Pennsylvania. He is certified in General Surgery by the American Board of Surgery. He is also certified in Colon and Rectal Surgery.
He is a member of the American Society of Colon and Rectal Surgeons.
Dr. Oraedu has undergone further training in the treatment of varicose veins with the Dornier laser and with the Midwest Vein Center in Dayton, Ohio. He is a member of the Vein Affiliates.
---
---